October 7, 2016
Madrid Monitor makes it easier than ever to stay up-to-date with the latest developments on your application for international registration and all trademarks registered through the Madrid System.
Why Madrid Monitor?
Madrid Monitor combines the functions and capabilities of ROMARIN, Madrid e-Alert and Madrid Real-Time Status, and the WIPO Gazette of International Marks in one simple and easy-to-use tool.
With Madrid Monitor, you can:
SEARCH for detailed information on all international trademark registrations. Use the intuitive interface to search using International Registration Number (IRN), holder or mark name, an image, Basic Mark number, classification, and more.
TRACK the progress of your international application and international trademark registration, with detailed information and transaction history.
FOLLOW developments in the status of your international trademark registration, with real-time updates on your transaction requests and access to key decision documents (refusals, grants of protection, etc.).
SAVE & SHARE your search results and mark detail reports in HTML and PDF formats, or create a hyperlink to share the records with others.
WATCH competitors' marks, in addition to your own, by creating a customized "watched marks" list, and set up real-time email alerts to easily keep an eye on trademarks of interest.
Get started in three easy steps
SEARCH: Enter information about the mark in the Search field (search by international registration number, name, international application number, image, date, country, classification and more).
SAVE & SHARE: In the bottom right hand corner of the search results page, click PDF, XLS or HTML to save a copy of the report, or open the searches dropdown menu (in the upper right hand corner) and select link to search to generate a shareable link of your search parameters and results. Easy saving and sharing options are also available for the mark details page.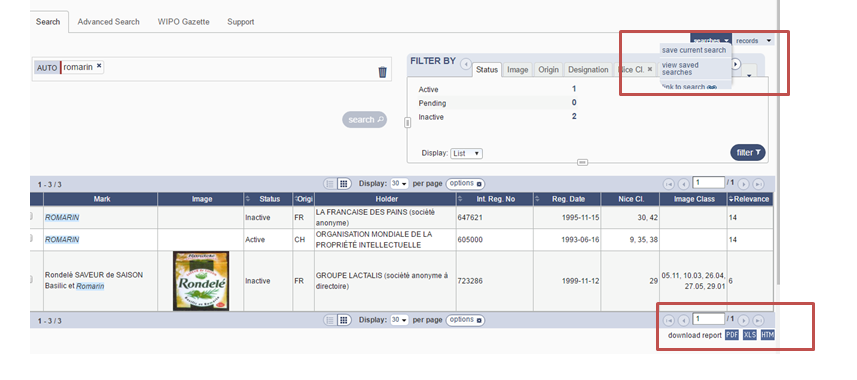 MONITOR: After selecting the desired mark, click the star icon in the upper right hand corner to add it to your "watched marks". You'll receive an email alert each time the record is updated (a WIPO account is required).

To view or manage your "watched marks", click on records in the upper right hand corner of the search page and select view record sets. Manage this list by selecting the relevant International Registration Number and removing the star icon.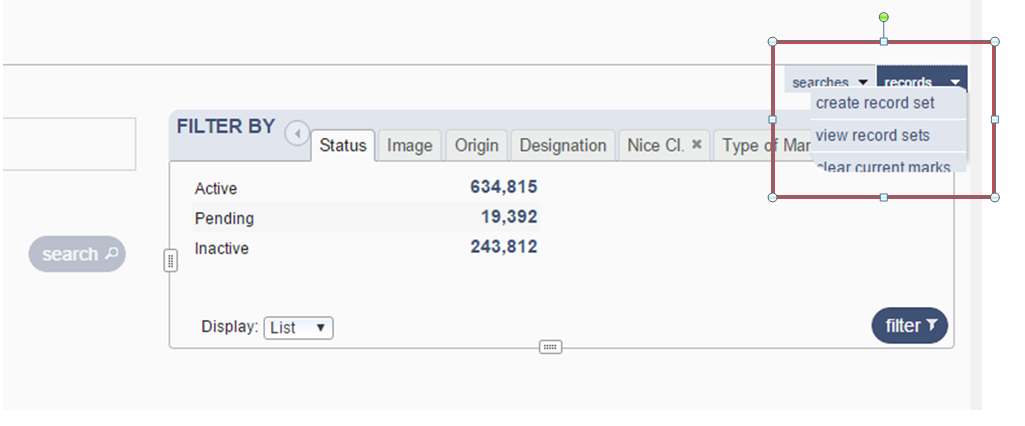 Tell us what you think
We invite you to test Madrid Monitor Beta, which is currently available alongside ROMARIN, Madrid e-Alert and Madrid Real-Time Status, and the WIPO Gazette of International Marks.
After trying the tool, take a few minutes to to give us your feedback on Madrid Monitor. This will help us tailor the tool to your needs, before it is deployed as the single monitoring tool for all Madrid System-related inquiries.
The deployment of Madrid Monitor is the first step in a broader Madrid Registry initiative focused on delivering an enhanced, customer-driven online experience for our users throughout the lifecycle of their mark. Over the coming months, the Madrid Registry will introduce new and improved e-Services that will enable you to access information and manage your portfolio faster and more effectively.
Questions or Comments?